Absolute Time Search Error in Version 0.5.1
TLDR Chris reported an issue with absolute time search in version 0.5.1. Hengfei confirmed it as a bug and asked them to submit a bug report.
Powered by Struct AI
Aug 01, 2023 (4 months ago)
Chris

Searching by absolute time seems to be broken in 0.5.1 - you can't select the date properly in the gui. I presume this problem resides in the router? If so any idea whether it might be safe to just revert the router to 0.5.0 (always nervous about doing something like that...)?
Hengfei

First, you can revert to 0.5.0, no problem.
10:34
Second, What is the error?
Chris

as you select the date from the calendar, in the etxt box it either displays today's date or "undefined" (not sure what drives which gets displayed)
Hengfei

Can you give a screenshot?
Chris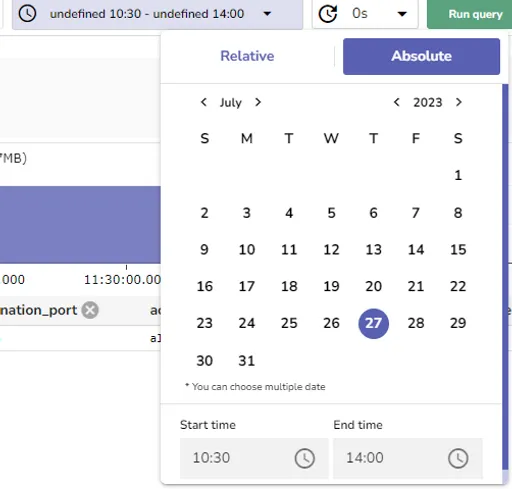 Hengfei

Got it, i confirmed, this is a bug.
10:39
Thanks, Can you create a bug for this?

OpenObserve
OpenObserve is an open-source, petabyte-scale observability platform for the cloud native realm, offering a 10x cost reduction and 140x less storage use compared to competitors like Elasticsearch or Splunk. Built in Rust for exceptional performance, it offers comprehensive features like logs, metrics, traces, dashboards, and more | Knowledge Base powered by Struct.AI
Indexed 406 threads (74% resolved)
Join Our Community