Issue with Timezone Display on OpenObserve Post-Upgradation
TLDR Alejandro faced issues with timezone settings on OpenObserve post-upgradation. Prabhat provided a solution which resolved the issue.
Powered by Struct AI
Nov 13, 2023 (2 weeks ago)
Alejandro

Hi everyone,
Anyone with timezone problems displaying logs on OpenObserve after migrating from 0.6.4 from 0.7.0?
After upgrade the base image for my Docker OpenObserve installation, the timezone on the interface for the logs is not displaying anymore on GMT-3 (my local timezone, the timezone of my OS), is displaying on GMT, and I cannot found a way to change that on the UI back to the previous config.
For now, I downgrade the Docker Image of OpenObserve back to 0.6.4.
Prabhat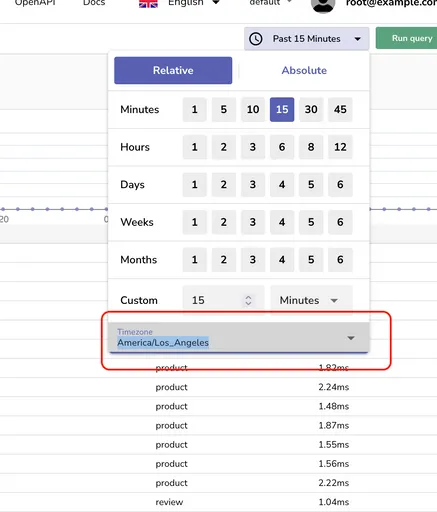 Alejandro

Ok, perfect Prabhat, thanks, worked.

OpenObserve
OpenObserve is an open-source, petabyte-scale observability platform for the cloud native realm, offering a 10x cost reduction and 140x less storage use compared to competitors like Elasticsearch or Splunk. Built in Rust for exceptional performance, it offers comprehensive features like logs, metrics, traces, dashboards, and more | Knowledge Base powered by Struct.AI
Indexed 404 threads (74% resolved)
Join Our Community