ZincObserve Release and Grafana Dashboard
TLDR Prabhat announced the new ZincObserve release and shared Grafana dashboard details. Sebastian suggested improvements to the dashboard for easier datasource customization.
Powered by Struct AI
May 26, 2023 (6 months ago)
Prabhat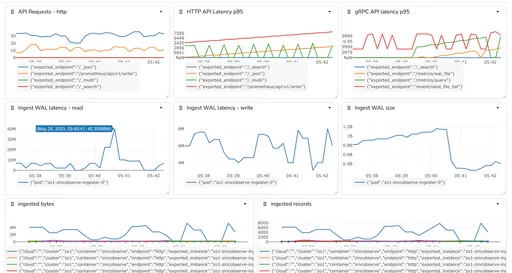 May 29, 2023 (6 months ago)
Sebastian

Have you guys published an official Grafana dashboard to keep and eye on these internal components
Prabhat

Nah. The above dashboard is from ZincObserve. We do have the same dashboard in grafana too, You could use this from our grafana -
09:40
I tried importing it in latest grafana but after the import it did not work. Let me know if it works for you
09:41
Try this too. Hopefully one of these work for you. I could not get either of these to work wit the latest version though.
Sebastian

This one works but need lots of modifications to make it work. I would suggest defining a global datasource variable so that is it used in each panel. In this way as everyone has a different Prometheus source they just need to change it in one place.
10:04
Example dashboard with the variable
01:34
Updated version of the dashboard:

OpenObserve
OpenObserve is an open-source, petabyte-scale observability platform for the cloud native realm, offering a 10x cost reduction and 140x less storage use compared to competitors like Elasticsearch or Splunk. Built in Rust for exceptional performance, it offers comprehensive features like logs, metrics, traces, dashboards, and more | Knowledge Base powered by Struct.AI
Indexed 406 threads (74% resolved)
Join Our Community